What's New at Jessenka
Jessenka News
COVID-19 Pandemic
We will be open for business and operating in our normal business hours.
We can be contacted by phone 03 5782083
COVID-19 Update
Update
Hand sanitizer is available on the table outside reception. Please sign in for COVID tracing.
We will need to check your contact details (phone numbers and email) are current on our pet boarding forms. If you are a new customer you will need to complete this form. It is available on this website or on arrival at reception. This information will only be used for your pet's well-being, or for official COVID-19 tracing.
If you are unwell or have any flu type symptoms please stay home.
Thank you
Other News
There will be a price rise from 1 April 2021, the updated prices are now displayed on this website.
All the water that is used for the dogs and cats is now filtered and UV treated. It is safe for people and pets to drink straight from the tap.  
We have a new sign at the gate to greet customers. The old sign had been there for a very long time and I have to admit it took a very windy Marlborough day to make this improvement happen!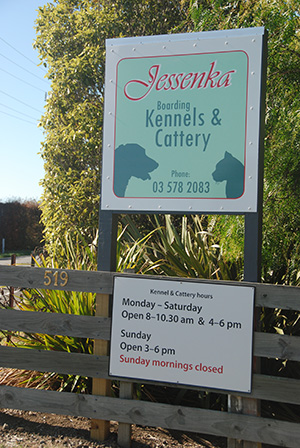 Links
We have had a visit from Gemma who runs Furever Friends, a pet cremation service. They are local to Blenhiem. For more information please click on the link:   http://www.fureverfriendsmarlborough.com/
Committed to the welfare of your pets